Centre Events
Each year, we have many fun Kids & Company Family events scheduled simultaneously in all of our centres.  In addition, each Kids & Co location has its own unique events. These could be visiting an exciting venue with our Kids & Co families and friends, a parenting workshop, family fun days or an in-centre drop-in program. Our Kids & Company events are a great opportunity for our families to socialize with one another and get to know our team!
Upcoming Events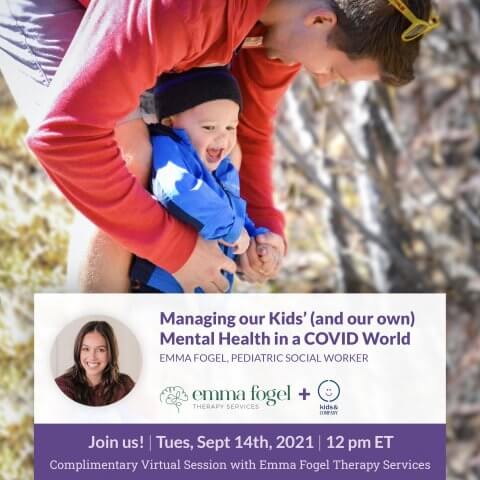 Tips to help manage our kids' (and our own) mental health!
Kids & Company is partnering with Emma Fogel Therapy Services, pediatric social worker, to offer a psychoeducational webinar as we continue to transition to work/school/child care in a COVID world.
𝐎𝐮𝐫 𝐜𝐨𝐦𝐩𝐥𝐢𝐦𝐞𝐧𝐭𝐚𝐫𝐲 𝐯𝐢𝐫𝐭𝐮𝐚𝐥 𝐬𝐞𝐬𝐬𝐢𝐨𝐧 𝐢𝐬 𝐭𝐚𝐤𝐢𝐧𝐠 𝐩𝐥𝐚𝐜𝐞 𝐨𝐧 𝐒𝐞𝐩𝐭 𝟏𝟒𝐭𝐡 𝐚𝐭 𝟏𝟐 𝐩𝐦 𝐄𝐓!
The psychoeducational webinar will discuss:
⭐ How we can best prepare our kids' mental health, resiliency and coping
⭐ How to normalize the psychoemotional experience
⭐ Concrete strategies to help children, youth and parents feel equipped to work through daily challenges