Schaumburg
Our Center
Welcome to Kids & Company Schaumburg!
Our Learning Environment: We are so excited to announce the opening of our newest Chicagoland location directly off Higgins Road in Schaumburg. This location includes 11 classrooms providing excellent care and education for children ranging from six weeks through six years. Each classroom contains educational materials, age-appropriate toys and child-sized equipment to help little ones learn and grow.
Natural light through adorns the learning environment inside while children are able to enjoy two gated playgrounds while outside. One for younger children working on their motor capabilities and another for older children confidently ready to climb and run!
Infant classrooms provide nursing areas for mothers, individualized cribs for babies to cozy up in and plenty of room for tummy-time.
Toddler, Preschool and Pre-Kindergarten classrooms are arranged with centers for children to learn by working together with their peers while developing social-emotional skills with the care and love of early childhood teachers.
Our Programs: At Kids & Company, we use an emergent curriculum and learn through play philosophy. We're so proud of our learning programs. They include Pre-Literacy and Early Reading, Art and Exploration, and Munchkinetics (movement) and are specially designed to engage our children in a learning process that encourages self-expression, creativity, coordination and most importantly, fun! You'll find sign language in our baby and toddler rooms. All our children participate in music, Spanish, science & exploration and creative play throughout our day.
Did you know we have camp programs for school-age kids? Sign up for a day, a few days, a week or the entire summer and let them explore their communities, stretch their minds and build lasting friendships! Find out more here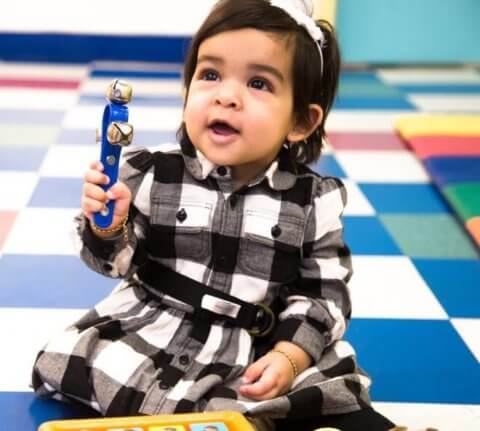 Our Center Information
Address
Schaumburg
150 W Higgins Road
Schaumburg, Illinois, 60195
Contact Information
224.353.6813
schaumburgillinois@kidsandcompany.com
Center Hours
Monday to Friday, 6:30 am - 6:00 pm
Meet The Director
Welcome to Kids & Company Schaumburg. My goal is to partner with you and your child in their journey through early learning. As a parent myself, I understand that selecting a quality childcare program is a HUGE decision. We are very fortunate to be in an amazing area that welcomes families and encourages involvement within the community. Kids & Company provides proprietary age and developmentally appropriate curriculum. Your child will have a variety of opportunities to learn, play, explore and grow. Imagination and creativity are also encouraged in all the activities and programming.
I have always held a special place in my heart for the Early Childhood Field. I have been in the educational field for over 30 years. I started as a teacher in a Preschool program right out of High School. I then worked in the Public School system and found myself drawn back into the Early Childhood field. I worked as a Kindergarten Teacher, Assistant Director and found my home as a Director, leading amazing Educators and making a difference to many families. In the midst of my career, my job that I am proud the most of was becoming a mother. My son attended the Early Childhood programs and I am proud to say, that he is a wonderful young man today. Education has always been a passion for me and I wouldn't change it for the world. As I was growing as an Educator, I attended Oakton Community College and earned my Early Childhood Certification. I then went to Roosevelt University where I am completed my Bachelor's Degree in Education.
In my personal time, I enjoy family fun. I have been lucky to have been married to my husband for over 20 years. We focus on spending time together with our son just enjoying life every day. Our son keeps us busy and we love to head to the City to enjoy museums, the Zoo, or just a walk around the lakefront. I enjoy reading and find myself a book worm. You will most likely find us at the library on the weekends. Overall, I just enjoy making memories and look at each day as a present, just waiting for me to open.
Now that you know more about me, I would love to meet you. Stop by our Schaumburg center for a chance to see how Kids & Company can provide quality care and education for your child!